Native Plants
In order to identify regionally appropriate native
species, specialized references should be
consulted. While there are many sources of
information available on native plants in the
United States, regional treatments provide the
most accurate information about species
presence in each part of the country. The most
reliable, recent references for New England
include Flora Novae Angliae (Haines, 2011) and
the Go Botany website maintained by the New
England Wild Flower Society. This searchable
database of plant species contains information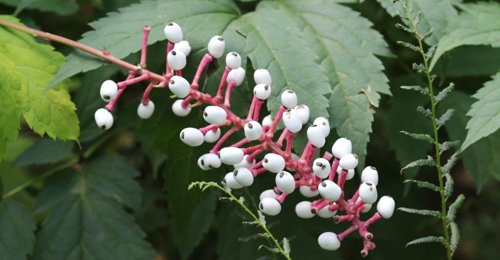 on New England and North American distribution, nomenclature, habitat, characteristics, wetland and conservation status, and identification information. These related references are based on accurate botanical records, primarily herbarium specimens (dried, pressed and identified plants from a specified location), of species presence. The "Go Botany" website contains range maps for each species in the region at the county level.
Our goal is to provide technical and practical information on the growing and planting of North American (Canada, US, and Mexico) native plants for restoration, conservation, reforestation, landscaping, roadsides, and so on.
Native Plants Journal was first published in 2000 as a cooperative effort of the USDA Forest Service and the University of Idaho. The impetus was a perceived need for a journal dedicated to the practical aspects of growing and planting North American (Canada, Mexico, and US and US insular areas) native plants. The primary goal was to publish in a format that included both refereed research and general technical articles to encourage "cross pollination" between researchers and field workers.
Other useful references:
New England:
Angelo, R. and D. Boufford. Atlas of the New England Flora. 2014, revised in 2015
Connecticut:
Connecticut's Endangered, Threatened, and Special Concern Species List 2015​
Dreyer, G., C. Jones, R. Capers, P. Sweeney, N. Barrett, P. Sharp, C. Ultee, L. Brown, S. Saulys, E. Corrigan. 2014. Native and Naturalized Vascular Plants of Connecticut Checklist. Memoirs of the Connecticut Botanical Society, No. 5
Maine:
Maine Rare Plant List and Rare Plant Fact Sheets
Massachusetts:
Massachusetts List of Endangered, Threatened and Special Concern Species
Cullina, M. D., B. Connolly, B. Sorrie and P. Somers. 2011. The Vascular Plants of Massachusetts- A County Checklist. Massachusetts Natural Heritage & Endangered Species Program.Massachusetts Division of Fisheries and Wildlife
Natural Heritage & Endangered Species Program
New Hampshire:
Rare Plant List for New Hampshire
Rhode Island:
Rare Native Plants of Rhode Island
Rhode Island Native Plant Guide
The RI Native Plant Guide was developed by the University of Rhode Island (URI) Outreach Center and the Rhode Island Natural History Survey (RINHS) with funding from a Northeast Sustainable Agriculture Research and Education grant. The guide is intended to serve as a reference for individuals involved in:
Native plant propagation and cultivation;
Planning, design, and management of habitat restoration projects; and
Landscape design and management of commercial and residential landscapes.
The plants featured in this guide were selected from 1,300 species of plants native to Rhode Island listed in the Vascular Flora of Rhode Island, a publication of the RINHS. Plants listedas 'native' in the Vascular Flora were designated as such based on documentation in scientific literature published prior to 1997, and on herbarium records and field data for plants believed to have been here prior to European movement to the area, which began in the 15th century.
Vermont:
Rare and Uncommon Native Vascular Plants of Vermont
Gilman, A. V.  2015.  New Flora of Vermont. Memoirs of the New York Botanical Garden. Volume 110. NYBG Press
FACT SHEETS:
For New England:
New England Native Forbs of Short to Medium Stature
New England Native Grasses of Short to Medium Stature
For Connecticut:
Butterfly Nectar Sources- Nectar-Rich Connecticut Native Plants​ – CT NRCS
Native and Non-Native Caterpillar Host Plants for Showy Butterfly Species – CT NRCS.p
Site Requirements of Some Butterfly Nectar Plants Native to Connecticut​